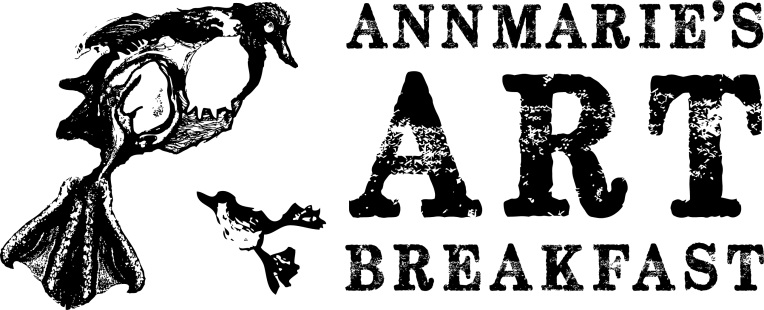 Attention Artists
DERBY MORNING OFFERS OPPORTUNITY TO SHOW, SELL YOUR WORK
Nothing else in Louisville says style, class and fun like Derby Day. This year, the Fourth Annual Annmarie's Art Breakfast on Derby, premiere sponsored by Fetter Printing, and Rooibee Red Tea, will offer an opportunity for you to show and sell your work in the context of an exciting fundraiser for budding fellow artists.  Annmarie's Art Breakfast on Derby is an event of the Lomenta Foundation, working to support arts and environmental concerns in the region.
Previous and currently committed exhibitors include: Vian Sora (mystical works from Baghdad), and Jesse Cooley (compiled and found art), as well as other famed artists in other genres.
This Lomenta Foundation event supports two worthy causes:  the Annmarie Campbell Art Scholarship fund at Murray State University and the Bernheim Forest Annmarie Campbell Zen Garden. Ms. Campbell graduated from the Murray State program but died in 2006. The Lomenta Foundation fund helps others pursue their dream of mastering and exhibiting their art talents.
The Annmarie Art Breakfast on Derby invites artists to submit up to 8 pieces for sale at a booth or table that will be your own. We request that 25% of your sales sold during the event be donated to the Lomenta Foundation fund. We also request that you consider contributing at least one piece of work for the event's silent auction, where you set the minimum bid.  100 percent of your silent auction contribution will go to the day's causes.
Naturally, complimentary admission is provided for our artists and their guest.
BASIC INFO
What: Annmarie's Art Breakfast on Derby, a Derby morning breakfast with art, music and a silent auction
Who:  The general public, ages 18 and over
Where: The Brown-Forman Playroom, 626 W. Main, Louisville, Ky. (Free street parking.)
When: May 4, Derby Day in Kentucky, 9:30 AM - 1:30 PM
WHAT WILL HAPPEN
The event will be hosted by the late artist Annmarie Campbell's mother, Dawn Marie Yankeelov
Buffet breakfast including egg creations, bacon, seasonal fruits, assorted cheeses, muffins, scones, and decadent desserts, including the pie of the day.
Artists displaying and selling their work
Silent art auction
Reggae, jazz, and rock by the Johnny Doughnut Experience
An exhibition of Annmarie Campbell's work, along with selected arts and crafts, and apparel vendors. 
Award-winning ballroom dancing exhibition.
Cash bar, featuring mimosas
Rooibee Red Tea, a local, bottled organic ready-to-drink tea, for purchase or sampling.
OTHER BENEFITS TO YOU
You will be honored as an Art Ambassador with special nametags. In addition, you will have an opportunity to speak about yourself and your work for up to 4 minutes at the stage microphone. In addition, your name will be included in press releases and may promotional materials distributed after you commit to exhibiting.
SELLING YOUR WORK
There will be a central checkout location where attendees can pay with credit card, cash or check.
ATTENDANCE
Tickets for the event are $35 each. Tables for 8 may be reserved for $250. Tickets can be purchased in FB on the Annmarie's Art Breakfast page or from the Lomenta Foundation page or direct on ShowClix.com (http://www.showclix.com/event/AnnmarieArtBreakfast).
TO JOIN US OR TO ASK QUESTIONS
Call, email or Facebook Josephine Lee, joslee1992@gmail.com, Olga Skrynnikova, oskrynnikova@yahoo.com, or Dawn Yankeelov, dawny@aspectx.com. Include how many pieces you anticipate exhibiting, the type of artwork, your name, mailing address, email, phone, and any other information you would like to share.
Details of the Event will soon be posted at www.aspectx.com.
EVENT DAY
When you bring in your artwork, you will be expected to provide an inventory list of what you are displaying, or we will make one upon your arrival.  We can provide you with blank labels, if requested, upon arrival.
You will be responsible for labeling your work with prices, and for delivering your artwork to the Brown-Forman Playroom in Louisville for staying and participating in the hanging or display setup of your work on May 3 between 9:30 AM and 3 PM.
We will accept early drop-off of artwork that week at times to be determined direct with you, if needed.  We would like you to be set and ready to go on Derby Eve.  The building is secured.
ABOUT ANNMARIE
Annmarie Campbell grew up in Louisville and was a passionate artist and Murray State art graduate that understood both the dark and the beautiful sides of weathering life's journeys.  The intent of her work was to investigate relationships of duality—principally, attraction and repulsion. Campbell devoted much of her time to drawing, printmaking and photography.
She died at age 23 in May 2006, while serving as an artist-in-residence at Fancy That in Paris, Tenn., attacked by an alligator on an outdoor adventure in Ocala, Florida.  Yankeelov, her mother, established a scholarship in her name at Murray State to support art students.  This event contributes to the fund regarding the scholarship in her name.
THE LOMENTA FOUNDATION
The Lomenta Foundation, founded by Dawn Marie Yankeelov has been formed to work in the areas of interest of the late Annmarie Campbell, who lived a life of passion and adventure working as an artist. The mission of this organization is to fund and empower activities that support growth and expansion of individuals being trained at higher academic institutions in the arts, or already working in arts communities, expressing or exploring issues, genres, and thought-provoking ideas.

MURRAY STATE UNIVERSITY ANNMARIE CAMPBELL ART SCHOLARSHIP
Murray State University maintains a strong academic reputation and has been rewarded with high marks when compared with other regional public universities in U.S. News & World Report and other college ranking publications. The school is Kentucky's only public university to be listed in the U.S. News & World Report top tier for past 18 consecutive years.  The scholarship, established in Annmarie's name, goes to a junior or senior art student attending the institution. Students can receive the award in their junior year and reapply for senior year. Each eligible student must submit at least 10 electronic photo or art images in email or printed pictures of any type of art for review by 2 art professors for a final selection. Two Murray art professors will be selected to review these each award period. The student must have a 3.0 GPA and maintain a 3.0 GPA in order to be eligible to receive the award again.
www.murraystate.edu/scholarships  and  www.murraystate.edu/art
BERNHEIM
Isaac W. Bernheim established Bernheim Arboretum and Research Forest in 1929. I. W. Bernheim (1848-1945) was a German immigrant who settled in Kentucky. From a humble beginning as a peddler, he became successful in the whiskey distilling business where he established the I.W. Harper brand. Grateful for his good fortune, he gave Bernheim Arboretum and Research Forest to the people of Kentucky as a gift. Bernheim features a nationally recognized arboretum, the first LEED© Platinum certified building in the state of Kentucky, beautiful gardens, tranquil lakes, and miles of trails.  The Annmarie Campbell Memorial Zen Garden can be found off the trail around Lake Nevin.  http://www.bernheim.org/memorial.html